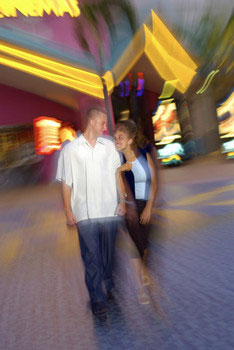 The challenges of dating brought to your mobile phone
Wanna hook up? Gameloft, a leading developer and publisher of games for mobile phones, has hit the dating scene full on with the launch of a new interactive game, Love Triangle: Dating Challenge. The game puts you in the lead role of a fun romantic comedy customized for your mobile gaming pleasure.
With a witty off-beat humor, Love Triangle: Dating Challenge tests your relationship skills by pushing you to score with the man of your dreams, who happens to be your best friend's boyfriend! Erica, the main protagonist, is smart and pretty with a clever wit, but socially challenged.
Her best friend Kiki is a beautiful trust-fund baby whose fixation on herself sometimes overshadows her big heart. In the middle of it all is Lucas, a sweet but clueless stud who relies on his rugged good looks to get by.
Playing the role of Erica, the objective is to charm Lucas into dropping Kiki and to make him realize that Erica is his true soul-mate.
"Love Triangle: Dating Challenge is a unique and fun game because it's a tongue-in-cheek take on all the dating dilemmas," said Michel Guillemot, president and CEO, Gameloft.
"It's a light hearted female-friendly game and its appeal lies in the simple, but highly addictive gameplay where funny one-liners make or break the dating situation."
According to a study by Telephia, a research organization providing integrated analysis to the mobile communications industry, female mobile gamers accounted for 60 percent of mobile game purchases in the U.S. between February and April of 2005.
"It's clear that female mobile gamers claim a significant portion of the purchasing power," said Guillemot. "By developing games such as Love Triangle: Dating Challenge, Gameloft continues to define and reach our audience in way that is appealing to them."
Love Triangle: Dating Challenge is now available. Check with carriers for availability.
Gameloft is a leading international developer and publisher of video games for mobile phones. Established in 1999, it has emerged as one of the top innovators in its field.
The company creates games for mobile handsets equipped with Java, Brew, or Symbian technology.
The total number of mobile handsets with this technology is anticipated to exceed one billion units in 2007. Partnership agreements with leading licensors and sports personalities such as Ubisoft Entertainment, Universal Pictures, Viacom, FifPro, Lamborghini, FHM, Vans, Derek Jeter, Vijay Singh, and Geoff Rowley allow Gameloft to form strong relationships with international brands.
In addition to the partnerships, Gameloft owns and operates titles such as Block Breaker Deluxe, Asphalt: Urban GT, New York Nights, and Siberian Strike.
Through agreements with major telephone wireless carriers, handset manufacturers, specialized distributors, and its online shop, Gameloft has a distribution network in over 65 countries. Gameloft has worldwide offices in New York, San Francisco, Montreal, Buenos Aires, Paris, London, Dusseldorf, Milan, Barcelona, Beijing, Tokyo, Hong Kong, and Seoul.