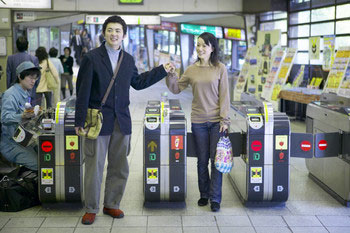 AOL is muscling its way into online journalism. Be afraid.
MAY 16, 2001 WAS A TYPICALLY eventful day in the never-ending news cycle. George W. Bush unveiled a controversial energy plan, ticking off environmentalists with his zeal for oil exploration. Louis Freeh prepped for his humiliating mea culpa before Congress as op-ed wags eviscerated the FBI's bungling of the Timothy McVeigh case. Abortion funding caused a stir on the House floor. Jenna Bush received a judicial wrist-slap for underage boozing.
Logging onto America Online, however, one might have surmised that May 16, 2001 was the most frivolous 24-hour stretch in recorded history. On AOL's welcome screen, the startup window that greets about 70 million different people each month, the headlines contained nary a mention of Arctic drilling or misplaced evidence. In the choicest, eye-level section of the screen, the top item instead screamed: "Give good vibes? Take the attitude quiz!" Below that was an equally earth-shattering tidbit: "See Mariah's makeover pic" Following that: "A fine romance? Find one with personals in New York."
In the top-right hand corner, just above the weather forecast, was a small box marked "Top News" Perhaps this was where an earnest member of AOL's journalistic stable--a Time reporter, a Fortune columnist--could offer a few quick, sober words regarding the Fed's rate cut, or the Middle East's turmoil. But during the evening's prime surfing hours, the Top News box was strangely empty--a light-blue void on a page otherwise cluttered with "Do you sing in the car?" polls, plugs for the latest J. Lo flick, and "Name that celebrity!" contests.
Such techno-glitches, which occur with disturbing frequency, have yet to hamper AOL's evolution into one of America's most popular news outlets. Every day, nine million people log onto the welcome screen. Compare that to the three million who peruse the daily New York Times. And at a time when network newscasts and major newspapers struggle to retain their audiences, AOL is enjoying spectacular growth; in the first quarter of 2001 alone, the service added 1.75 million new subscribers, giving it a total of 29 million. The next largest competitor, Microsoft's MSN, has signed up just five million.
AOL's trashy fare is no less crowd-pleasing than David Letterman's Top Ten Lists or the National Enquirer's "Baywatch Star Caught in Love Nest" stories. But neither late-night talk shows nor supermarket tabloids claim to be anything more than light entertainment, only barely tinged by current events. AOL, on the other hand, seems to consider itself a sober news organization. After all, this is the company that engineered last year's $350 billion merger with Time Warner, home to such serious journalism brands as CNN, Time, and Fortune. It has hired dozens of veteran reporters from the likes of the Associated Press and The Washington Post to work as online editors, charged with selecting which wire-service stories appear in AOL's news section. Those hires were designed to reflect CEO Gerald Levin's assurance that "journalism is going to be at the heart of this company." And when Editor & Publisher Online omitted AOL from a recent survey of journalism sites, Gary Kebbel, director of programming for the AOL News Channel, emailed a protest letter. He contended that many people use AOL as their online news source in lieu of the Web sites of their local newspapers.
No cut-and-dried figures can back up that claim, but anecdotal evidence supports Kebbel's vision of AOL as USA Today Lite for Netheads. About a quarter of AOL's usage stems from the viewing of content, from the Top News to dieting advice in the "Lifestyles" section. (The bulk of the remainder comes from email and chat.) And while some subscribers may disregard the notion of AOL as a journalistic outlet--much like those folks who buy The New York Times only for the crossword--there is little doubt that millions spend at least a few minutes each day perusing AOL's stories. And chances are, they're going to find it far easier to locate a tell-all about Christina Aguilera's vixen makeover than a serious article on Indonesia's embattled president--the former will likely be a blaring headline on the welcome screen, the latter will require four or five twists and turns through the site's less glamorous regions.
If AOL'S version of news delivery is indicative of the future of online journalism, then the future looks mighty grim. No other legitimate news organization relies so heavily on celebrity-oriented drivel and trifling service pieces. Top headlines like "Doomed to be a spinster?" or "George Clooney: Hot or not?" make AOL seem like little more than an online amalgam of Entertainment Weekly and The Montel Williams Show. Even worse, the service has scant regard for the traditional divide that separates a newsrooms' editorial and business sides. Legitimate stories are seamlessly mixed in with advertorial fluff, and ethically murky sponsorship agreements call into question the entire operation's objectivity. The Internet, once envisioned as a promising venue for independent journalism, is becoming a digitized WalMart circular under AOL'S watch.
Shameless Product Plugs
Dating back to its earliest incarnation, as a gaming service called Control Video Corporation, AOL has fancied itself a populist enterprise unconcerned with geekdom's cyber-libertarian ideals. Though its chairman, the ubiquitous Steve Case, now rubs elbows with prime ministers at Davos, his business roots are decidedly humble--he once peddled sham poo for Procter & Gamble and pepperoni pies for Pizza Hut. Unlike other online pioneers, whose heads buzzed with radical concepts about techno-democracy and the reinvention of the public domain, Case rarely seemed to view the Internet as anything grander than a sales opportunity. It was no gaffe when Barry Schuler, AOL's president of interactive services, recently called himself the "guy who turned the Internet into Happy Meals." Only at AOL could such a statement be deemed a boast.
The paucity of meaningful content on AOL dates back to the company's scrappy origins, when it lacked the resources to obtain brand-name fare--financial analysis from CBS Marketwatch, or Hollywood gossip from Entertainment Weekly. Instead, the service relied on user-created content, particularly the salacious babble bandied about in the chat rooms. In 1996, Rolling Stone estimated that the company earned over $7 million per month from sex-oriented chat alone (a figure that Case, ever mindful of AOL'S family-friendly image, vigorously disputed).
Yet content has become one of the company's most lucrative revenue sources. AOL, which once proudly touted a no-ad policy, earned $2.4 billion in advertising and commerce revenue in 2000, doubling its 1999 income. Most ads are viewed as users zip from the welcome screen to the companion "channels," adjoining sites that focus on sports, entertainment, or parenting. Those channels, in turn, steer users toward the e-commerce sites of AOI's sponsors, who shell out eight-figure sums for their privileged status. A marriage-trends "story" on the Women's Channel will inevitably lead to the TheKnot.com; a Family Channel piece that trumpets Mother's Day factoids will nudge users toward 1-800-flowers.com or Godiva.com.
The scheme wouldn't work without the welcome screen, the initial lure in AOL's bait-and-switch advertising strategy. During the mid-1990s, the screen's links tended toward the whimsical--"Toilet Paper: Do We Really NEED It?" or "Don't Look Up! Bird Droppings: What YOU Need to Know." This was before AOL began printing money with advertising revenue; in 1995, the struggling company raked in just $6 million from ads and e-commerce combined. In 1996, a Sony executive bribed AOL into giving his company welcome-screen ink by sending the engineering department a bushel of Walkmans.
Today, even 10,000 Walkmans couldn't buy that sort of placement. The welcome screen is the Internet's Manhattan, a high-rent district for the General Motors and eBays of the world. In exchange for their millions, deep-pocketed advertisers receive the finest in online buzz. Last fall, after Time Warner's hot.dots magazine began receiving a daily welcome-screen mention, hundreds of thousands of visitors began frequenting the publication's Web site--over a month before the inaugural issue. And when music retailer N2K plugged its fire sale on Titanic soundtracks, it sold over 750 CDs--in the first 20 minutes. Eat your heart out, Ron Popeil.
Not surprisingly, the welcome screen is now packed with in-house ads for AOL's floundering WB television network ("Dawson's Creek: They graduate tonight at 8 p.m.") or tacky come-ons for Martha Stewart-style baubles ("Make this summer bright! Glorious combinations of color and candlelight by Illumination")